Waterloo collapsed balconies: Man arrested for threats to kill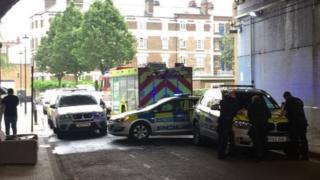 A man who pretended to have a gun has been arrested after a three-hour stand-off with armed police in central London, Scotland Yard said.
Dozens of people were evacuated from a block of flats in Windmill Walk, Waterloo, after four balconies collapsed at about 09:30 BST.
Emergency crews called out to the scene were "threatened by a man" who said he had a firearm, the Met said.
The man has been arrested for threats to kill and is being held in custody.
No gun was found at the scene.
London Fire Brigade said 20 to 30 people had been evacuated from the building.
A person working in nearby offices, who asked not to be named, said he heard the balconies collapse with a noise "like something heavy being thrown into a skip".
He said he witnessed a man "shouting and swearing about residents enjoying the spectacle".
The arrested man remains in custody, say police.