Woman, 100, mugged outside her home in Tottenham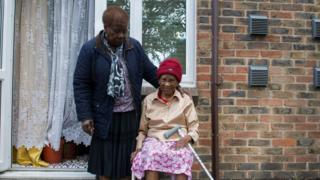 A 100-year-old woman was mugged outside her home in north London after returning from a prayer meeting.
Alexteen Roberts's attacker followed her home then pushed to the ground and punched her before stealing her bag containing £300.
Mrs Roberts' grandson heard her shouting in distress. He tried to catch the attacker, who escaped.
"When I'm coming in the house now I'm afraid because of this wicked man," she said.
The attack happened on 23 August and Mrs Roberts has had her 101st birthday since.
Grand-daughter Jacqueline McIntosh said family members now took it in turns to be in the house with Mrs Roberts.
"She's become a bit unsteady now. A lot of other old people live in this area and they have become concerned," she said.
Mrs Roberts' grandson Ashley Aitcheson, 31, said the attacker had pretended to be a council worker before the robbery.
He said the man looked "like a drunk". He was white, about 35 years old, wore baggy clothes and he had a beard.
The attacker was last seen heading towards Seven Sisters Road.
Det Ch Insp Luke Marks said: "This was a despicable attack on a very elderly lady who lived independently and is now fearful to return home.
"At 101 years old she had the sense and foresight to dismiss the suspect when he tried to con her into unnecessary electrical work, but he then decided to mug her instead."