London mayor disappointed by Fabric club closure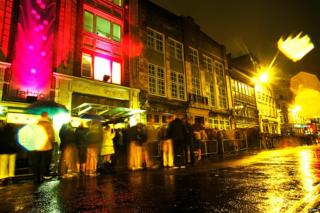 Mayor of London Sadiq Khan has voiced his disappointment at the decision to permanently revoke the licence of Fabric nightclub.
It comes as it emerged the mayor wrote to Islington Council stressing the importance of the club to London's night economy ahead of the decision.
He said London had lost 50% of its nightclubs and 40% of its live music venues in the past eight years.
The council said its decision was taken because of a "culture of drugs".
'Wider problem'
A 28-day licence suspension was already in place at Fabric, in Farringdon, following the death of an 18-year-old last month.
Mr Khan said: "Clubbing needs to be safe but I'm disappointed that Fabric, Islington Council and the Metropolitan Police were unable to reach agreement on how to address concerns about public safety.
"The issues faced by Fabric point to a wider problem of how we protect London's night-time economy, while ensuring it is safe and enjoyable for everyone."
The closure has led to an online petition, so far supported by 150,000 people, calling for the club's licence to be restored.
In his letter to Islington Council, Mr Khan said he would be appointing a Night Czar to "act as an ambassador for London's night-time economy" who would bring together key stakeholders, including venue owners and the police.
It also pointed to research showing the night-time economy contributes £26.3bn to London's annual economy.