'Small army' stabbed Che Labastide-Wellington to death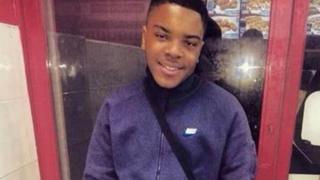 A "small army" of men stabbed a 17-year-old to death at a party advertised on social media platform Instagram, the Old Bailey has heard.
Che Labastide-Wellington was knifed in the heart at the 16th birthday party in Kenton, north-west London.
One of his friends, who cannot be name for legal reasons, was also stabbed several times.
The pair were attacked by a group of men many of whom were armed with knives, the court heard.
The attack was the result of a feud between people on neighbouring estates in north west London, the jury was told.
Seven of the accused are on trial for murder and wounding.
'Hunted down'
All guests at the party were apparently searched before they were admitted but, it was alleged, one of the defendant's brothers took a machete with him concealed in a rucksack.
Prosecuting, Crispin Aylett QC said a flyer for the event was posted on Instagram, which meant "inevitably a number of people who had not been invited got to hear about it".
He told the jury a "small army" of youths descended on the gathering to "sort out" the victim, who was outside in the street.
He added: "Once the defendants' group had arrived... they immediately attacked as a group - surrounding Che and his friends.
"As Che and his friends tried to escape, the defendants' group - as a group - hunted them down."
Mr Labastide-Wellington, who was believed to have been carrying a knife himself, was stabbed once in the chest and collapsed in a nearby alleyway on 7 November 2015.
He was pronounced dead at the scene at 01.30 GMT.
The second victim was stabbed six times in the back, side, arm and leg. He was taken to hospital and given six pints of blood, which saved his life.
Mr Labastide-Wellington's mother Carlene Wellington gave birth to another son less than 24 hours before the killing, the jury heard.
Calvin Tudor, 22 and Rimmel Williams, 18, of Willesden, Walker Sesay, 18, Omar Afrah, 22 and Olamilekan Onafowokan, 23, of Wembley, Marlon Tudor, 23, of Neasden, and Ibrahim Mansaray, 18, of Acton are all charged with murder by joint enterprise and wounding.
A 15-year-old from Willesden, who cannot be named, faces a charge of conspiracy to cause grievous bodily harm.
The case continues.