Attacked pregnant woman 'induced after son's heartbeat stopped'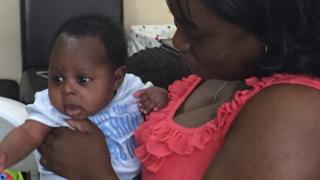 A pregnant woman had to be induced as her baby had no heartbeat after she was attacked by a robber who punched and stole her phone, police said.
Patience Chukwu, 40, was heading to Homerton Hospital in east London after her contractions started.
When she answered a call from her sister - her birthing partner - a man riding a bike grabbed the phone and punched her in a struggle, police said.
Her baby son has suffered seizures as a result of the attack, the Met said.
Police said when Ms Chukwu and her attacker struggled over the phone, she had grabbed the back of his jumper to stop him taking the phone and was dragged along.
In an attempt to get her off, he allegedly raised his right arm to swing at her stomach. To protect her unborn child, she bent forward and the resulting punch landed on her head. She was then hit twice in the face despite pleading him to stop saying she was heavily pregnant, police said.
He then headed off along Leadale Road in Stamford Hill, north London, before turning right to Craven Park Road and then heading to the River Lea.
'Devastating consequences'
When she was rushed to hospital, doctors discovered the baby did not have a heartbeat so the birth was induced.
Baby Ozil, known as Kamsi, was kept in a critical care unit for a week before being allowed home. He now suffers from seizures as a result of the attack, police said.
"This whole incident has upset me more than I can describe", said Ms Chukwu.
"I already suffered from anxiety before this, and now I am scared whenever a bike goes past me - it's affecting me living my life.
"I was really looking forward to a happy, healthy birth, and now I cry whenever I see my son jerking in his sleep from the stress that was caused when he was in the womb. I worry every day whether he will be ok."
The attacker has been described as a dark skinned black man, aged about 18-20 years, short, of medium build, with shaven hair and brown eyes. He was wearing a grey hooded top and had a slim face with pronounced cheek bones and rough, pock-marked complexion.
Det Insp Paul Ridley, said the attack had had "devastating consequences" for Ms Chukwu and her son.
"All the robber got away with was a mobile phone, but the impact his actions have had will last this family a lifetime," he said.
The incident happened at about 09:00 on Sunday 26 June.
Anyone with information has been urged to contact police or Crimestoppers.