Tributes to 'hero' dad who died in Spain saving daughter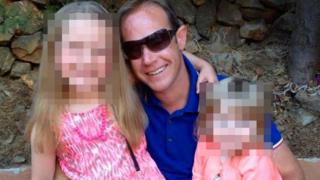 Tributes have been paid to a "hero" father who died saving his daughter from drowning during a family holiday in Spain.
Friends said Reece Morris, from London, was rescuing his daughter when he died off the coast of Malaga on 21 August.
His partner of 24 years, Carly Eeles, described him as "the most amazing man, partner, father, brother and friend" who would be "terribly missed".
The Foreign Office said it was "providing assistance to the family".
His sister Kerry Morris said she was "absolutely heartbroken and devastated".
"He was a fantastic brother. We were best friends," she said.
Writing on Facebook, Jay Carter said his "best friend" had "passed away as a hero".