James Fox inquest: Shot man 'pointed gun at child's head'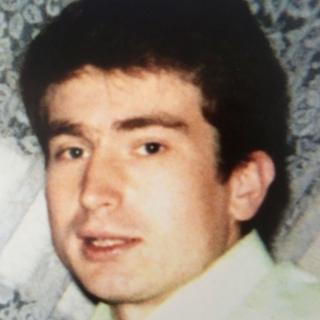 A man shot dead by police at his north London home had earlier gone to his father's house and pointed a gun at a child's head, an inquest has been told.
James Fox, 43, was shot five times at his flat in Picardy House, Enfield, north London, on 30 August 2015.
In a 101 call to police played to the inquest, the child said: "He had the gun and he was pointing it at me. He was pointing it at my head."
Mr Fox's stepmother told police he had left their home but "he had a gun".
North London Coroner's Court also heard that Mr Fox had threatened to kill his father, Eamon Fox, who was not home at the time of his visit.
Following the 101 call to police, officers began a search for an "emotionally or mentally distressed" Mr Fox and armed officers were deployed as they did not know what type of firearm he had.
Two hours after the call officers shot Mr Fox when he answered the door, resulting in his death at the scene.
Coroner Andrew Walker told the jury: "Five police officers entered Picardy House and made their way outside Mr Fox's flat, where at about 11.40pm police fired five shots, fatally wounding Mr Fox when he opened his door, carrying what police believed to be a firearm."
Sgt Derek Brook, the Metropolitan Police's firearms tactical adviser, said an informant had said Mr Fox was carrying an airgun, but "we couldn't be 100% sure".
He added: "There wasn't a way for us to identify whether it was an air pistol or not.
"My understanding is that he (the informant) was not there at the time and didn't see the weapon."
Mr Fox had a "history of contact with the mental health services", the jury heard.
He had previously been sectioned under the Mental Health Act and had been known to own an airgun to "shoot pigeons".
An air pistol was found when his flat was searched.
Lawyer Owen Greenhall, representing the Fox family, suggested officers could have contacted mental health professionals.
However, Sgt Brook replied: "This was Sunday evening at 9pm on a bank holiday weekend.
"It would be very difficult to reach someone at that time.
"We have great difficulty getting in contact with a mental health team at the weekend."
The inquest continues.