Wandsworth Council becomes 'first' to formally protect pubs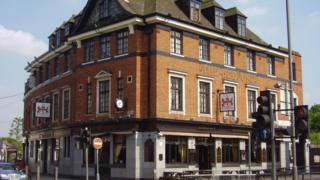 A south-west London council says it has become the first in the UK to formally protect its pubs from redevelopment.
Wandsworth has told owners of 120 of its best-loved bars they will need planning permission to convert them into homes or shops.
Deputy council leader Jonathan Cook said it could prove to be a "turning point" for the nation's "vulnerable pub trade" if other councils follow suit.
Currently owners do not need permission to change a property's business use.
The fast spread of mini-supermarkets - many of which are opened within former pub buildings - has exacerbated the problems facing the pub trade, the council says.
It says it is the first to grant 'Article 4 Directions' on this scale after an "alarming" number of pubs have been converted for other uses.
New planning guidance has been approved which specifically recognises the historic, architectural and community value of Wandsworth's pubs.
The authority said the new planning policy gave councillors strong grounds to refuse applications.
The protected pubs include:
The Alma, The Ship and The Cat's Back in Wandsworth
The Bricklayers Arms, Arab Boy and Railway in Putney
The Plough , Falcon and The Beehive in Battersea
The Selkirk, Trafalgar Arms and Wheatsheaf in Tooting
The Bedford, Regent and Prince of Wales in Balham
Deputy council leader Jonathan Cook said: "Wandsworth's pubs are now the best protected in the entire country and have a genuine defence against the relentless spread of mini-supermarkets and estate agents.
"I'm proud and delighted we've found a way to protect them."
Some pubs that are currently closed have also been given protection, including the White Lion in Putney High Street and The Brewery Tap in Wandsworth High Street - it's hoped this will give an added incentive to the owners to bring them back into use.
Neil Williams, from the British Beer and Pub Association, said protecting pubs was important but it was concerned about measures which make "blanket restrictions".
"Every pub is different and each case should be looked at on its own merits," he said. "For some people the pub could be their only major asset and if there is restriction on that it could have a devastating effect on that family business.
"There will be pubs that aren't viable and some other use has to be found for that premises."
He said there should be a focus on other measures to save pubs, such as reducing high taxes on beer.