Conned Uxbridge woman convicted in internet dating scam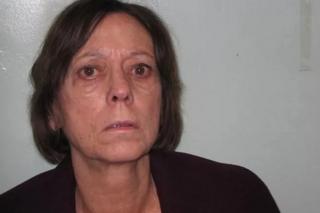 A woman who lost her life savings in a dating site scam has been convicted of money laundering after passing on cash from other victims.
Sherroll Foster took out an overdraft and loans to send £65,000 to a man in Ghana who she believed was her "soulmate".
The 65-year-old of Uxbridge then allowed other women to pay money into her account which she passed on.
Foster pleaded guilty to one count at Isleworth Crown Court.
She was given an absolute discharge and ordered to pay £3,500 to one of the victims.
'Financial ruin'
The ruse was carried out by a gang targeting women over the age of 60 who use dating websites.
Foster met a man called Mark Hamilton on a dating website in 2012 who convinced her he needed money to release £4m in gold deposits in Ghana.
She began sending him money in February 2013 and allowed other victims to pay money into her bank account, believing they were Hamilton's friends.
One sent £8,000 while another gave £19,000 before realising it was a scam and contacting Action Fraud.
'Cautionary tale'
A third victim paid £3,500 to Foster who transferred it to the scammers even though she had been arrested for fraud and money laundering and was on bail.
Det Con Mark Cresswell said the defendant had been "looking forward to a comfortable retirement" but "now faces financial ruin and extensive, long term debt".
"This may not be a unique tale, but it most certainly should be treated as a cautionary one," he said.
A Scotland Yard spokesperson said the people behind the scam had not been traced.