Gold Maserati GranCabrio with L-plates seized in Kingston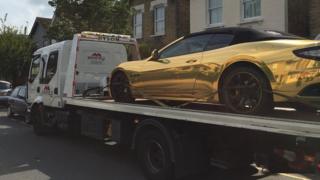 A gold supercar with L-plates was seized by police in west London, leaving its driver by the roadside.
Officers seized the Maserati GranCabrio - a basic model of which can cost up to £100,000 new - on King's Road in Kingston on suspicion of it having no insurance.
The Met said the car was impounded and the owner would be summoned to court.
If found guilty the owner, who has not been named, faces a minimum £300 fine and six points on their licence
A Kingston Police spokesman said the driver was pulled over because officers thought the car seemed very expensive for a learner to be driving.
In March, a "gold fleet" including a Lamborghini Aventador, a Mercedes G63 6x6 and a Bentley Flying Spur were all spotted in Knightsbridge with parking tickets on their windscreens.