Teenager stabbed to death in Hayes 'ran for his life'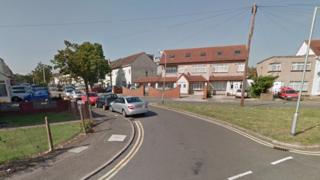 An 18-year-old who was stabbed to death in a street attack was "running for his life" while covered in blood, a witness has said.
The onlooker said she had screamed at the attacker to stop as the teenager was repeatedly knifed on the residential road in Hayes, west London.
Despite the efforts of the emergency services, he died at the scene.
An 18-year-old man, who police said knew the victim, has been arrested on suspicion of murder.
'Strolled away'
The witness, who did not wish to be named, told the Press Association she had thought it was just "kids playing around" before she realised what was happening.
She said she had seen the victim chased up Gledwood Gardens before he was stabbed "multiple times".
"The boy had his shirt off and he was covered in blood," she said.
"Then the boy kept on stabbing him and stabbing him and I walked to my wall and screamed 'stop it, leave him'."
She added: "I wish I could have helped, I wish I could have done something."
The area was completely empty at the time of the attack, but her screams brought other residents out onto the street, she said.
Despite this, the attacker carried on before calmly walking off with the knife still in his hands, she added.
"There was nobody there and the boy just started to walk away, he didn't run, he didn't walk fast or anything - he just walked away.
"He did his job and then he walked away, he strolled away."