Sex attacker Roderick Russell jailed for 1993 assault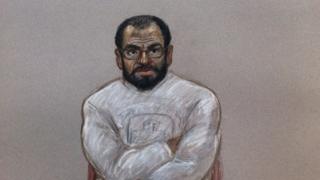 A sex attacker has been jailed for beating and trying to rape an 86-year-old widow more than 20 years ago.
Roderick Russell was aged 16 when he attacked the vulnerable woman in her bedroom at her Peckham home in 1993.
In 1996, he was questioned when a pornographic magazine with his fingerprints on was found at the flat.
But he was not charged until modern DNA tests made a "one-in-a-billion" match in 2014 when his saliva was found on her underwear.
'Severe psychological harm'
At the Old Bailey, he was jailed for eight-and-a-half years for the attack after he had admitted charges of attempted rape and assault.
The court heard the 86-year-old victim could not return to her home following the attack and died three years later in an Essex care home.
Sentencing Russell, Judge Nicholas Hilliard QC said "the last years of this lady's life were blighted" by his crimes.
"The upshot was that she was never able to return to her flat or live independently again. This is very severe psychological harm," he said before adding: "I'm satisfied that he [Russell] was criminally mature.
"Not only was it a planned attack but actions later in the year, 1993, showed that he had a propensity for sexual violence against the elderly."
Knifepoint
Russell is already serving three life sentences after a similar attack on an 81-year-old woman in south-east London, in December 1993, the court heard.
She was beaten, sexually assaulted and imprisoned in a cupboard for two days until rescued just before Christmas.
He was convicted for this offence in 1996.
He had originally been jailed in 1995 for robbing two women aged 60 and 77 - the latter at knifepoint - after which he was linked by fingerprints to the two sex attacks.