Westfield White City shopping centre stabbing: Two arrested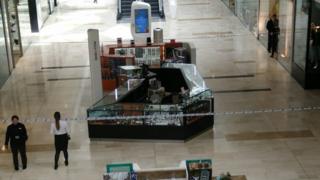 A man in his 20s has been stabbed in a shopping centre in west London.
Two men have been arrested following the stabbing just before 14:00 BST at Westfield Shopping Centre in White City.
An initial hospital assessment suggests that the victim's injuries are not life threatening.
The mall was partly cordoned off following the incident, which is not terror related, police confirmed.
Alessandro Mascellino, who works for Nomination Italy jewellery store, saw a group of policemen run past.
"I didn't see the attacker," he said.
"I was then told to stay outside and they shut the doors. I asked a policeman if my friends inside would be OK and they told me there was no risk whatsoever, it was just closed as it's a crime scene.
"I've worked here for three years and I have never seen so many police here. They're continuing to shut down sections of the mall."
Anyone with information was asked to contact Hammersmith and Fulham police.