Forest Hill: New hole hits London Bridge rail services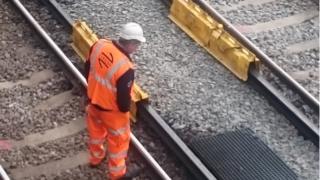 A hole that opened under a railway line caused major travel disruption for a second time in just weeks.
Lines into London Bridge station were shut for safety and services cancelled, following the discovery of the 50cm-wide hole at Forest Hill, south-east London, on Thursday.
It comes after 13ft-deep hole opened in the same area on 18 July, also forcing lines into London Bridge to be shut.
All lines into London Bridge re-opened on Friday morning.