Murder inquiry after man killed in Battersea attack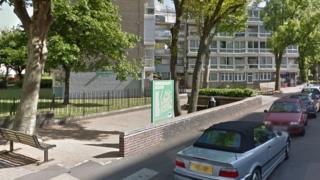 One man has been stabbed to death and two others injured in an attack in south-west London.
Police said they found a man in his 30s with stab wounds at Shepard House on the Winstanley Estate in Battersea shortly after 18:00 BST on Wednesday.
He was treated by paramedics but died at the scene. Two other men were found nearby with knife injuries and taken to hospital.
Scotland Yard said the stabbing was not linked to the Russell Square attack.
They added that there was no suspicion of any terror-related motive.
No arrests have been made.
The two men remain in a south London hospital with non-life threatening injuries.