Swiss Cottage to West End cycle superhighway backed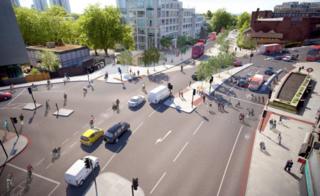 A cycle superhighway linking north-west London to the West End will be built after 60% of people backed it in a consultation, City Hall has announced.
Deputy Mayor for Transport Val Shawcross said CS11, which will connect Swiss Cottage and Oxford Circus, would proceed but with some changes.
Campaigners suggested the scheme would cause "total gridlock on the roads and increased air pollution".
TfL said it would work with other organisations on "outstanding issues".
Mayor of London Sadiq Khan backed the idea, saying it would "play an important role improving the quality of our toxic air."
However, he said he was "determined to learn the lessons from previous cycle superhighway schemes... to ensure we minimise any disruption".
TfL said adding the new segregated route to the current cycle superhighways would "improve safety and reduce conflict with motor vehicles".
The proposal for CS11 included changing the one-way system around Swiss Cottage and allowing vehicles to only use the outer circle around Regent's Park, between 11:00 and 15:00 BST.
But, campaigner Daniel Howard, who was behind an online petition, said it would turn "a major section of London into a congested car park".
---
'Caused a bikelash'
BBC London transport correspondent Tom Edwards
What's significant about today's announcement about cycle superhighway 11 (CS11) is it gives a clear indication of the way the Mayor will go with cycling.
The route is contentious. It involves restricting access to motor vehicles to Regent's Park and that has led to opposition or "bikelash".
But despite that - like the previous Mayor Boris Johnson - it seems the Mayor Sadiq Khan is willing to give it the go-ahead.
City Hall says the new segregated bike lanes like those on Blackfriars Bridge have changed behaviour - 70% of traffic in rush hour there is now bikes.
There will be further work on CS11 to try and address concerns around issues like rat running. But It looks like London is going to get more segregated bike tracks.
---
The route has also been opposed by ZSL London Zoo, which who said the partial closure of Macclesfield Gate would "place significant restrictions" on visitors.
But, TfL's director of road space management Alan Bristow, said the group was "committed to delivering new infrastructure that encourages more people to cycle and walk".
---
London's cycle superhighways
CS1 White Hart Lane in Tottenham to Liverpool Street Station
CS2 Aldgate to Stratford
CS3 Barking to Tower Gateway
CS5 Oval to Pimlico via the Vauxhall gyratory
CS7 Merton to City
CS8 Wandsworth to Westminster
East-West cycle superhighway from Tower Hill to Lancaster Gate (to be completed by winter 2016)
North-South cycle superhighway from Elephant and Castle to Stonecutter Street, near Holborn Viaduct (being built)