Kilburn cafe Efe's owner 'killed with machete in front of customers'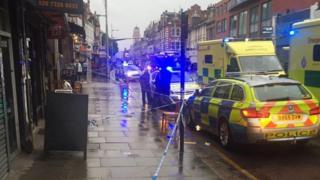 A cafe owner was stabbed to death with a "machete" in front of customers, witnesses have claimed.
The 48-year-old was attacked in Efe's cafe on Kilburn High Road, north London, at about 19:00 BST on Monday. He was taken to hospital but later died, police said.
Landlord Bryan Mannion, who runs a neighbouring pub, said he saw the victim collapse in the cafe's doorway.
A 21-year-old man has been arrested on suspicion of murder and is in custody.
'Bloodied shirt'
Mr Mannion, 50, who runs the Black Lion pub next door, said the cafe owner was stabbed in the shop while customers were inside.
"An elderly gentleman was taken away with blood all over his shirt - but he was just a witness", he said.
He described the victim as "a hard-working chap" who "probably had four days off in the last 17 years".
Property manager Osman Macci, who works nearby said he heard a "machete" had been used and described the stabbing as "a shock".
Another pub manager, John McCooke, said three of his staff had seen the stabbing and described how "a couple of pensioners" tried to fight off the attacker.
The Met said the victim's family "were aware" but a formal identification had not taken place.
A post-mortem examination is due to be carried out later.