Rape row man loses libel action against grieving father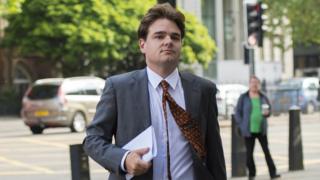 A man accused of raping a woman who subsequently committed suicide has lost his High Court libel action against her father.
Alexander Economou, 37 claimed he endured a five-week "public rubbishing" because of the actions of David de Freitas.
His daughter, Eleanor de Freitas, 22, had accused Mr Economou of rape in 2013, but no case was brought.
In June he was found not guilty of harassing Mr de Freitas,
Mr Economou had responded to the rape claim by bringing a £200,000 private prosecution against Ms de Freitas, which was then taken up by the Crown Prosecution Service (CPS).
Eleanor de Freitas took her own life at her parents' home three days before the start of her trial for perverting the course of justice in April 2014.
'Lash out'
The son of a shipping magnate, Mr Economou was later accused of sending letters to Mr de Freitas, emailing his solicitor and setting up a website on which he published CCTV footage of Ms de Freitas buying sex toys, along with sexual images and claims that Ms de Freitas was a prostitute.
As part of his libel claim he said Mr de Frietas had campaigned in the media and continued asserting that his daughter's allegation of rape was true.
Mr Economou sued David de Freitas over publications in various media in November and December 2014 which, he claimed, referred to him and were the responsibility of the 60-year-old financial planner.
He said said he believed Mr de Freitas's purpose was to "lash out" against him in public because he blamed him for his daughter's death and wanted to take revenge.
Mr de Freitas had denied libel and told Mr Justice Warby that he reasonably believed that publication was in the public interest.
He also pointed out that Mr Economou was not named in any of the articles.
Mr de Freitas insisted he was not motivated by revenge but rather that his focus was on the role and conduct of the CPS and its decision to continue the prosecution of his daughter.
The judge heard that Mr Economou was never charged with rape and nothing said in court should be taken as impugning the presumption of innocence to which he was entitled.
Ms de Freitas was also never tried or convicted of the charge of perverting the course of justice, the court heard.