Forest Hill 13-ft-deep hole opens under railway line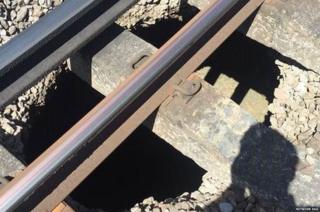 A 13ft-deep hole has opened under a railway track causing widespread disruption to trains in south London.
Southern services are disrupted around London Bridge for the rest of the day after the hole opened in Forest Hill.
Thameslink services have also been affected, with London Bridge trains only running between Gatwick Airport and Brighton.
Network Rail said engineers were moving more than 50 tonnes of ballast to the scene to try and shore up the track.
Caterham and Tattenham corner services are being diverted between Norwood Junction and London Bridge.
The hole has forced the diversion or cancellations of many Southern services into and out of station.
The rail operator said the London bound lines were "blocked" because of the large hole affecting the track between London Bridge and East Croydon.
Passengers' frustration
Tickets are being accepted on London Underground, Buses, Southeastern and South West Trains.
Paul Bell, Labour councillor for Telegraph Hill in Lewisham, said: "No Overground to and from Brockley as sink hole opened at Forest Hill. Usual chaos on Southern, no change."
A Network Rail spokesman said: "Our aim is to have the railway fixed for tomorrow morning, but holes like this can be unpredictable.
"Until the ballast is packed into the hole, we won't know for certain if the hole is stable or not - so passengers are advised to check before they travel."
Rail passengers expressed their exasperation on Twitter.
Karen Palmer tweeted: "I thought travel from London Bridge couldn't get any worse."
Tom Berry wrote: "For the record @SouthernRailUK a hole in the track is your best excuse yet. #southernrail" while Laura C put: "I fear #southernrail may cook me alive in this train. #summerinlondon #SouthLondon".
It comes as commuters have experienced months of cancellations and delays on Southern trains due to an RMT dispute.