Kidnapper told girls he was undercover policeman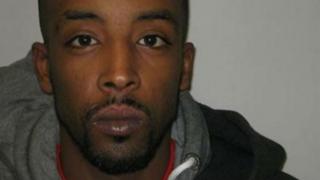 A man who tried to abduct six girls in north London, telling them he was an undercover police officer, has been found guilty of kidnap.
Abdi Waise, 28, of Kenneth Robbins House in Tottenham, approached the girls in Crouch End on 18 January as they made their way to school.
He persuaded one of them to go with him, but she managed to run off.
Waise was also found guilty of five counts of attempted kidnap.
Police arrested him the following day after a stop-and-search found two bottles of isopropyl nitrate, also known as poppers, on him.
He had shown some of the girls bottles filled with liquid, before trying to bribe a group of boys to give them to a girl.
All the girls were aged between 11 and 14.
"Waise went out with the plan of abducting a girl. He made concerted and increasingly desperate attempts over the course of about two and half hours," said DCI Paul Trevers.
"When deception didn't work, he became increasingly forceful. Fortunately all the girls saw through his ruse, and whilst frightened all made it away safely."
Waise is due to be sentenced on 21 July at Wood Green Crown Court.
Waise's movements on 18 January
Offers to sell cannabis to a boy in N17
Takes 41 bus to Crouch End
Tries to hire a cab to 'pick up his daughter', despite having no children
Tells a girl waiting at a bus stop he is an undercover officer and demands to search her bag. He is challenged by one of her parents and leaves
Asks a second girl if she has any drugs. She and her friend run off
Tells a third he is a policeman looking for his daughter, grabbing her wrist. She flees
Accuses a fourth girl and her friend of buying drugs and tries to lure them to a garden to search them. They also run away
Tries to bribe a group of boys to drug a girl with poppers
A fifth girl is persuaded to go with him after he says he knows her mother. She tries to escape and succeeds on her second attempt
Grabs the shoulder of a sixth, but she flees.