London licenses contactless payment technology worldwide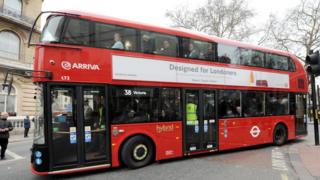 Transport for London has licensed its contactless payment technology for use by other cities in a deal it claims could raise up to £15m.
The Mayor of London, Sadiq Khan, is under pressure to fulfil a pledge to freeze fares and find savings as TfL's subsidy is cut.
Cubic Transportation Systems (CTS) helped introduce the Oystercard system in 2003.
It is currently bidding to supply the New York Metro system.
CTS already supplies smartcard ticketing technology to Sydney, Brisbane, Vancouver and Chicago.
The licence grants CTS access to London's contactless system and lets it tailor the technology for other urban transport networks.
"I made a firm commitment to sell Transport for London's expertise around the globe," Mr Khan said.
"We will use the income from those deals for further investment in new infrastructure and to freeze TfL fares."
TfL said it was the first of a number of planned deals to sell London transport expertise abroad.
Contactless technology in London
2003: Oystercards introduced
2012: Contactless launched for bus passengers
2014: Tube and rail services accept contactless payments, while buses go cash-free
2015: TfL accepts Apple Pay