Black Lives Matter: Brixton march during second day of London protests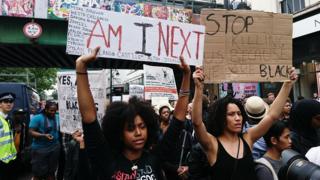 Hundreds of people have gathered in south London in protest at the shooting of two black men by police in the US.
The Black Lives Matter demo was held in Windrush Square, Brixton, named after the ship which brought the first West Indian immigrants to the UK.
Protestors held banners stating "Hands Up, Don't Shoot" and "Black Lives Matter".
It follows the fatal shootings of Philando Castile in Minnesota and Alton Sterling in Louisiana.
On Friday evening, parts of the capital came to a standstill as hundreds marched through central London to the Houses of Parliament in a demo organised by the Black Lives Matter London movement.
Five police officers were killed on Thursday during a march in Dallas, Texas, organised to protest against the shooting of black men by police.
A gunman was subsequently killed using an explosive device and was named as 25-year-old Micah Johnson.
Three people are in custody but it is not clear if there were other gunmen.