Patient lay dead in London A&E for 'hours' before being found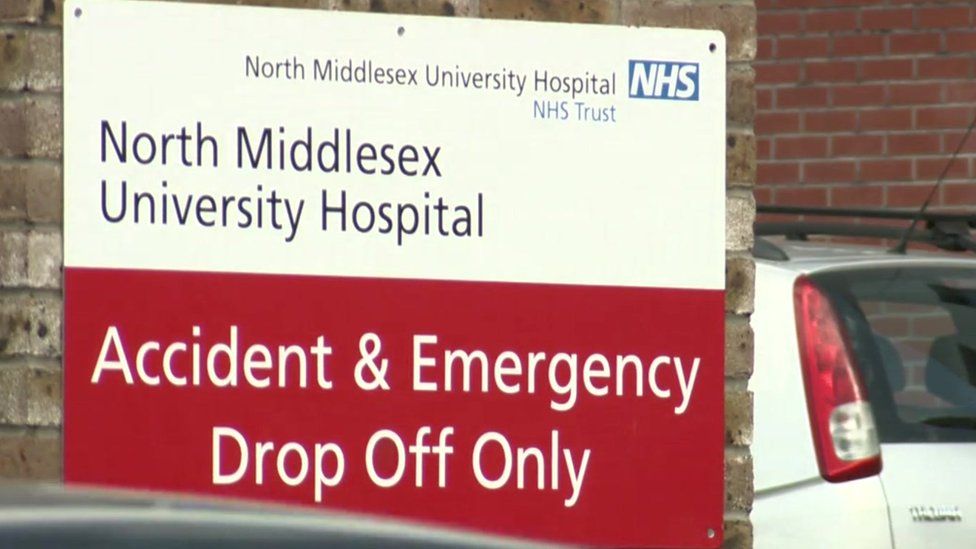 A patient lay dead for up to four-and-a-half hours before being spotted at one of the busiest A&E departments in the country, inspectors have revealed.
Emergency services at the London hospital have been rated "inadequate".
The hospital said it was "extremely sorry" for the problems in the unit.
Inspectors reviewed the department in April and May.
The unit - which sees 500 patients a day - logged 22 so-called "serious incidents" (SI) in the past year.
Inspectors were told about the dead patient as they were looking into whether nurses were able to conduct hourly rounds.
"We were told one recent SI investigation concluded that a failure to take hourly rounds meant that a patient had lain dead for up to four-and-a-half hours before being found," the report said.
Other issues included a patient being left sitting on a bedpan for more than an hour and only one commode being available for more than 100 patients.
There were also problems regarding the nurse to patient ratios, which were rarely achieved. The ratio should be 1:4 but more recently it had been 1:10 with up to 20 patients being treated in the corridor.
A delay with patients being transferred from trolleys to beds was also highlighted.
The aim, staff said, was to move patients "most at risk of developing pressure ulcers" within four hours but inspectors saw that in three cases patients were on hospital trolleys for between six and 13 hours, and were moved only when senior staff had been notified.
The report also said staff were afraid to speak up for fear of retribution.
The inspection of the emergency department and two of the hospital's medical wards was in response to concerns about the standards of care.
The hospital has apologised to patients and said its A&E department now had five additional doctors and consultants on loan from other London trusts, a new nursing lead and new clinical director.
Chief Inspector of Hospitals, Sir Mike Richards, said the hospital had "turned a corner" since the inspection.
He said: "A new leadership team is in place in the emergency department, there are moves to appoint more senior doctors - and I note that the trust is calling on consultants from other departments within the hospital to provide the routine daily support to A&E which is so badly needed.
"There is still much more that needs to be done. We will be watching their progress very closely."
There were significant delays to repairs of essential equipment
Middle grade nurses assessed patients arriving by ambulance, without input from doctors
Patients were not fully covered up on trolleys in the corridor, affecting their dignity
The department was without an established clinical director to provide leadership for more than six months
Inspectors said there were "no areas of outstanding practice"
David Burrowes, Conservative MP for Enfield Southgate, said he was left to wait for hours on a trolley with a ruptured appendix in the emergency department in 2014.
"The important question is why the warning signals from at least two years ago were not heeded," he added
Analysis : Health Correspondent Jane Dreaper
The horrific details - mainly mentioned towards the end of the CQC's inspection report - give a picture of the chaos at North Middlesex's A&E.
During the past year staff stopped worrying about breaching the national four-hour waiting time target, because it happened so often.
Poor leadership was to blame, according to the highly experienced chief inspector of hospitals.
But this in turn made the hospital an unattractive employer and fuelled under-staffing in the emergency department, with devastating results.
And many more patients came to North Middlesex after nearby Chase Farm was downgraded.
Recruiting and retaining sufficient A&E doctors is a long-standing, UK-wide problem. So how many other hospitals in deprived urban areas might end up failing patients for similar reasons?
Some doctors and NHS thinkers are now calling a big rethink of how A&Es are organised, so patients have better alternatives and the departments are better equipped to deal with the huge demands on them.
David Lammy, Labour MP for Tottenham, said the "damning" report was "even worse than I feared" and has demanded answers from Health Secretary Jeremy Hunt.
He said: "It shocks and appals me that this situation has been left for so long without an intervention from the Health Secretary, and the way that this has been covered up is nothing short of a scandal."
During the same inspection, medical care services were rated as requiring improvement.
The trust is now required to improve the care of patients in the emergency department by 26 August 2016 following a warning from the CQC.
A full inspection of the trust will take place in September.
Related Internet Links
The BBC is not responsible for the content of external sites.