Alice Gross murder: Schoolgirl 'unlawfully killed' in sex attack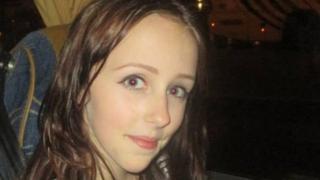 A teenager thought to have been killed by a man convicted of murder overseas died in a sexually-motivated attack, a jury has ruled.
The body of Alice Gross, 14, was found in the River Brent, west London, in September 2014, after she was reported missing a month earlier.
Arnis Zalkalns, 41, who had served a prison sentence in his native Latvia for murdering his wife, is believed to have killed her.
His body was found nearby days later.
'Failed by authorities'
Jurors ruled Alice's death was "consistent with compression asphyxia", where pressure of a person's chest prevents them breathing.
After the schoolgirl's body was found, it emerged records of Zalkalns' Latvian conviction were missed when he was arrested in the UK in 2009.
During the inquest, coroner Dr Fiona Wilcox ruled evidence given in court showed the Home Office and police "had not contributed to Alice's death".
After jurors announced their conclusions, Dr Wilcox read out a list of recommendations she was "highly likely" to make to the Home Office in relation to cases involving foreign nationals.
These included:
It should be mandatory for all police forces in England and Wales to perform automated criminal records and Interpol checks on foreign criminals
The Home Office should continue its policy of encouraging all EU and non-EU countries to update watch lists with details of all serious convictions
Audit systems should be put in place to ensure mandatory checks are being carried out and warnings lists updated
Contingencies regarding the exchange of information with EU countries should be considered in the light of Brexit
Speaking outside court, Alice's sister Nina said authorities had failed her family.
"Alice was not tragic, but what happened to her was," she said.
Her family has called for reforms in the way information about high-risk offenders is shared across Europe.
Alice's parents said they were "in favour of freedom of movement" but wanted to "ensure that there are fair and proportionate rules governing the movement of serious criminals".
Human rights organisation Liberty, which represented the family, said there was already better and comprehensive information-sharing about criminal convictions across the continent following her death.
But, they said, the system "remains reactive rather than proactive".
In a statement, the Met said it had amended policies since 2009 so the offending history of arrested foreign nationals was always checked.
But in Alice's case, they said. "in reality nothing would have changed" had a check been carried out on Zalkalns.
The force said it believed "both Alice and Zalkalns were dead prior to them being reported missing".
Alice went missing from her Hanwell home on 28 August.
Her body was found in the River Brent following Scotland Yard's biggest search since the July 7 bombings.