WW1 Anzac soldiers rested at YMCA Shakespeare-themed hut in London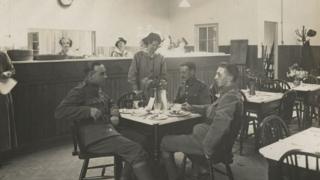 A building dedicated to Shakespeare which provided a haven in London for Anzac soldiers in World War One will be celebrated this summer.
The Shakespeare Hut in Bloomsbury was one of 4,000 buildings provided by the YMCA to those fighting.
Up to 100,000 men from the Australian and New Zealand Army Corps sought refuge there.
The Keppel Street Hut had a remit to bring performances of Shakespeare's plays and poems to the troops.
It attracted world famous actresses such as Ellen Terry and Fabia Drake to its stage.
It was London's only building created to honour the 300th anniversary of Shakespeare's death.
Now, 100 years on from that, it will be commemorated with an installation re-creating a room from photographs of the original building.
The project will commemorate the lives of the servicemen who used the Shakespeare Hut and the women who worked there.
The Keppel Street site was originally planned as the location for a national theatre in London, until war intervened.
After World War One it was sold to the London School of Hygiene & Tropical Medicine.
Rebecca Tremain, who works at the university, said: "The project will lift the lid on what life was like for those who used the building, and relive stories of those who fought and lived through the Great War."
The installation will run from Wednesday 6 July to 18 September.