Man steals car with baby and young girl in back in Enfield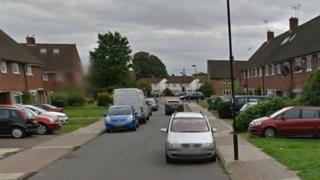 A man stole a car and drove away with a baby boy and a young girl sitting in the back in north London.
The man got into the Vauxhall Astra after the children's mother parked and left the car in Kempe Road, Enfield on Saturday at 12:45 BST.
The 12-year-old girl managed to get out of the vehicle as he drove off, but the baby was still inside. The child was later found on a doorstep in Cheshunt.
Police said the car was abandoned nearby. They are searching for the man.
The 11-month-old boy, who was not injured, was found by a member of the public in Guinevere Gardens who then contacted police.
The black Vauxhall Astra was discovered in Coopers Walk, Cheshunt, later that afternoon.
Metropolitan Police described the driver of the stolen car as a white man, in his late teens, with light spiky hair. They have appealed for witnesses to contact them.