Judge demands review into Ealing abortion clinic death case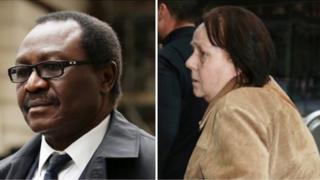 A judge has called for an urgent review of the decision to charge medics over the death of a woman at an abortion clinic in west London.
Aisha Chithira, 32, from Ireland, died after the procedure at the Marie Stopes clinic in Ealing in January 2012.
Dr Adedayo Adedeji, along with nurses Margaret Miller and Gemma Pullen, were accused of manslaughter by gross negligence but charges were dropped.
Judge Nicholas Cooke QC demanded a review into what "went wrong".
'Stress and uncertainty'
He said: "What has occurred must not be brushed under the table. The situation that arose is most regrettable given there was a tragic death.
"What flowed from that was an enormously long period of stress and uncertainty for the bereaved family and likewise for entirely different reasons for the defendants."
Judge Cooke praised the conduct of the prosecution barristers in court but said the decision-making process by the Crown Prosecution Service (CPS) was "not satisfactory" given the delay in the case.
Dr Adedeji, 63 from Hornchurch, east London, Ms Miller, 55, from Camberley, Surrey, and Ms Pullen, 32, from Stoke-on-Trent, initially faced a charge of manslaughter by gross negligence and health and safety charges.
After a review, all counts were dropped against Dr Adedeji and a decision was taken to just pursue charges of failing to take reasonable care of the health and safety of Ms Chithira, contrary to the Health and Safety at Work Act 1974, against Ms Miller and Ms Pullen.
They were expected to face trial at the Old Bailey last week but, after days of legal argument, prosecutor Sally O'Neill QC offered no evidence against the women.
All three defendants had always denied the charges against them.