British Airways worker felt 'prostituted' by dress code, MPs told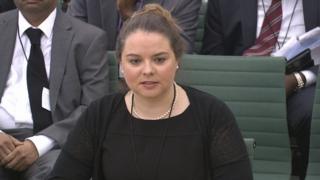 A former British Airways worker has told an inquiry she felt "prostituted" when she was ordered to wear heels, skirts and make-up for her job.
Ruth Campion said being told what to wear was an attempt to make cabin crew look "more sexy".
Ms Campion was giving evidence to MPs alongside Nicola Thorp, who was sent home for refusing to wear high heels.
More than 140,000 people have signed a petition calling for a ban on forcing women to wear high heels at work.
Ms Campion said British Airways staff were expected to wear full uniform, including high heels, from the moment they left their house, on public transport and in the airport building.
'Ridiculed'
Only when passengers were sitting down were they allowed to change into flat shoes, she said.
"For an employer to tell me that I need to do that in order for the business to have a certain image, it made me akin to being prostituted," she said.
Petitions Committee member Ian Blackford said it was "remarkable" behaviour on the part of the employer, because allowing staff to change shoes during the flight "was recognising there's potentially a health and safety issue" with the footwear.
"For me it's part of a culture that can't be challenged," Ms Campion said.
"We're talking about a uniform that's dictated to the tiniest amount, so for example you can only carry your handbag on your right shoulder.
"So to put your hand up and say 'I'd like to wear flat shoes and trousers and a cardigan if I'm cold, and I don't want to wear make-up', would put you in the minority, most definitely".
Shop assistant Emma Birkett told the Commons committee she was encouraged to wear a short skirt and unbutton her blouse to make more sales at Christmas.
She was shown stilettos with a pointed toe as an example of appropriate footwear when she started work at the store, she said.
Staff were "ridiculed" for requesting to wear flat shoes on the shop floor, she said.
"When I was offered the job I really needed the job so I didn't challenge the uniform at that point.
"We were laughed at and it was implied that if we didn't want to wear heels we didn't have to work there."
Ms Thorp's petition, calling for it to be made illegal to require women to wear high heels at work, has now had more than 148,000 signatures.
The Petitions Committee has set up the high heels and workplace dress codes inquiry in response.
She told MPs: "I personally don't understand why an employer should have the right to distinguish between male and female."