Henry Hicks death: PCs could face dismissal over moped crash death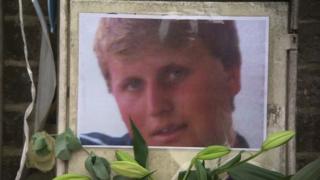 Four Met police officers face possible dismissal after a jury found an 18-year-old man died when his moped crashed during a police pursuit.
Henry Hicks, 18, was trying to flee from police in two unmarked cars when he died, an inquest jury found.
The four constables, based at Islington, will face gross misconduct hearings in relation to the death.
Officers conducted the pursuit without authorisation from a senior officer, the police watchdog said.
The Independent Police Complaints Commission (IPCC) directed the Met Police to launch proceedings against the two police drivers and two radio operators, who were passengers in the unmarked cars.
Stop and search
Under Met Police policy, the control room has to be immediately alerted to pursuits, which must be authorised in all but exceptional circumstances.
Mr Hicks, died when his moped crashed into a minicab in December 2014 in Wheelwright Street, Islington.
He was found to be carrying seven bags of skunk cannabis and multiple phones.
During the inquest at St Pancras Coroner's Court, one of the police drivers denied he was in pursuit of Mr Hicks.
The teenager had been stopped and searched at least 71 times between October 2011 and December 2014.
IPCC Commissioner Jennifer Izekor said the four officers "may have acted improperly" in their pursuit of Mr Hicks.
She also said the police's use of stop and search was "of significant concern".
"Despite being legally a child for the majority of this period, and the number of times he was stopped, little monitoring or review appears to have taken place by senior management within the borough command," she said.
Ch Supt Catherine Roper, borough commander for Islington, said: "Our pursuit policy, which is based on national guidance, is kept under constant review.
"In light of today's narrative delivered by the jury and any recommendations made by the coroner in her report, and the IPCC, we will once again review that policy."