Hunted prisoner released by mistake from Wandsworth jail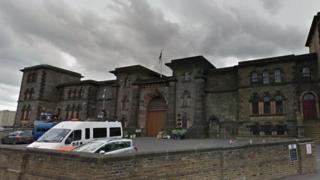 A foreign prisoner who was released early from Wandsworth prison by mistake is being hunted by the police.
The man, who was released in error from the south London prison on 27 May, had served a custodial sentence but was being held on an immigration warrant.
He was facing deportation under the European Arrest Warrant.
Five days after the man was freed having served his sentence for an undisclosed offence, the Home Office alerted the jail about the error.
The length of the prisoner's sentence has not been revealed.
'Release in error'
A Home Office immigration team is embedded at Wandsworth prison to help manage cases of foreign national prisoners during their sentence and after their release.
The Home Office said the mistake was not its fault, but that it was a Ministry of Justice error.
An internal prison report seen by the BBC said the prisoner "had a current IS91 document" which authorises detention under immigration powers once the custodial part of a sentence was complete.
It is understood the authorities discovered the "release in error" during a weekly meeting to discuss movement of foreign national inmates.
A Met Police spokesman said officers were trying to find the prisoner and were liaising with the Ministry of Justice, the Home Office, the Crown Prosecution Service and the National Crime Agency.
The Prison Service told the BBC: "The prison is investigating and working closely with the police to recapture him.
"Releases in error are rare but every incident is taken extremely seriously."