Police 'not in pursuit' of Henry Hicks before fatal crash, inquest hears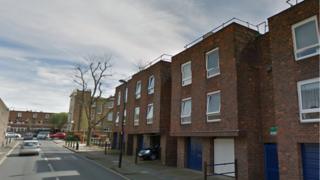 A police officer who was following a teenager on the night he came off his moped and died has said he was "not in pursuit" of the 18-year-old.
Two unmarked police cars were following Henry Hicks when he collided with another vehicle in Islington, north London, on 19 December 2014.
The officer told the inquest it "shocked me to my core" when he saw the rider lying motionless on the road.
Mr Hicks' family have raised concerns about the circumstances of the crash.
'Screaming' woman
The PC, referred to as officer A, said he had followed the teenager as he suspected he had been dealing in drugs.
He said: "In my heart I knew that he hadn't seen me. He gave me absolutely no indication that he was aware of me."
The officer said when he turned into Wheelwright Street he could see a moped on the floor.
"As I got closer, I saw that the rider was lying on the floor in front of the car that was facing me. He was lying on his front and not moving," he said.
The officer described how "a woman ran over screaming that it's her boy".
'Horrendous site'
He told the court: "I took hold of this lady because what I could see I didn't want her to see. I tried to stop her seeing a horrendous sight.
"I just didn't expect to drive up there and see him lying there. It was a really shocking sight to see. It shocked me to my core."
Officer A was asked by senior coroner for Inner London, Mary Hassell: "Did you think at the time that you were in pursuit?"
He said he did not, and when asked if he now thought he had been in pursuit, he told the coroner: "No, not at all."
The coroner said there were two "crucial" questions the jury would have to answer - whether police were in pursuit, and whether Mr Hicks knew he was being followed.
St Pancras Coroner's Court heard Mr Hicks was found to be carrying bags of cannabis.
Toxicology reports showed no drugs in his body.