Tower Hamlets School defends hiring racist killer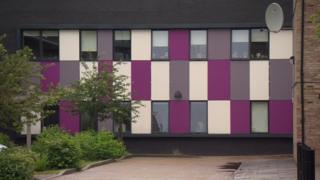 A school has defended employing a man convicted of the manslaughter of a Bangladeshi father in a racially-motivated attack.
Ian Devlin was 17 when he was sentenced to serve nine years at a young offenders' institution for killing Shiblu Rahman in London in April 2001.
Devlin has been employed at Ian Mikardo High School, Tower Hamlets, as an assistant since 2010.
It said he had passed security checks and was a model rehabilitated offender.
While the school was aware of Devlin's conviction, parents and the wider community were not. The information came to light following a recently published article in a Bangladeshi language newspaper.
'Valued member of community'
Devlin has declined to comment.
The school in Talwin Street, east London, caters for boys aged 11-16 with serious social, emotional and behavioural issues.
Head teacher Claire Lillis said: "Ian Devlin has worked at the school for the last five years. He has been an excellent example of how a rehabilitated offender can contribute to his community and he is a valued member of our school community.
"The school took all appropriate checks and advice in appointing Mr Devlin and wish to support him in continuing to do the work which he has been legally appointed to perform.
"I am concerned that the reaction of the community to this news presents more of a safeguarding risk to our vulnerable children than his presence at the school and would urge local people to react in a calm and measured way."
Tower Hamlets Labour councillor Khales Ahmed said residents were horrified by Devlin's employment at the school. When Devlin was sentenced in 2001, Judge Richard Hawkins said "I am in no doubt that this was a racially motivated attack."
Mr Ahmed told the BBC: "Many residents [have] approached me about their concerns about this issue. I immediately asked for an investigation. It is a huge mistake by the school.
"Fifteen years ago Shiblu Rahman was killed by this person. It was a terrible racist killing.
"I know he has a right to a job. In this country he has a right to do everything but not locally, where he killed someone.
"It is a disaster. It is terrible for us, a local diverse community.
"Local residents remember what happened. I am shocked by this school. It is poor management. He shouldn't be employed here in this school.
"He can get a job anywhere else in this country. I know the employment process was legal, but as a local community we need to live together but that is difficult if he is here."
Mr Ahmed is calling for Devlin to be redeployed to another area where he does not have the same "provocative" community links.
The Met Police said local community tensions were "not a policing matter at this stage".