MPs call for urgent meeting over North Middlesex A&E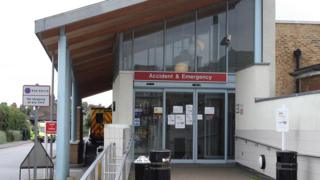 Two north London MPs have called for an urgent meeting with the health secretary over fears an A&E department could close.
David Lammy and David Burrowes have asked to meet Jeremy Hunt over concerns for patient safety at North Middlesex University Hospital.
The General Medical Council is "extremely concerned" about standards of training for junior doctors.
The hospital said it has a "broad recovery plan" and safety is paramount.
It follows a story by The Guardian which alleged that inexperienced doctors have been asked to perform tasks they were not qualified to undertake.
The GMC and Health Education England (HEE) have set out a series of requirements the hospital must meet by the end of the month or postgraduate training will not be allowed to continue.
If the requirements are not met, the GMC and HEE will remove 26 junior doctors from the unit - leaving it so short-staffed it would be unable to stay open.
David Burrowes, MP for Enfield Southgate, was left to wait for 12 hours on a trolley with a ruptured appendix in the hospital in 2014. He said: "I am requesting an urgent meeting with Jeremy Hunt with local MPs.
"Sadly the warnings are not new and two years ago I saw for myself as a patient the challenges for overstretched doctors and nurses and the threats to patient safety. It would be a catastrophic failure and disgrace to lose North Middlesex A&E."
David Lammy, MP for Tottenham, said the hospital is under "tremendous pressure" after the closure of Chase Farm A&E in 2013.
"It's unclear why MPs and their constituents for hospitals serving millions of people in north London have been largely kept in the dark," he said.
"I want to know why Jeremy Hunt has done nothing about it. He needs to come to Parliament to explain what he's doing and he certainly needs to explain why patients have died.
"The hospital is in serious, serious trouble."
Niall Dickson, chief executive of the GMC, said he expects "action on the ground" including the employment of additional senior staff.
He said: "Without adequate support and supervision there is a serious risk that patients are being put at risk."
The Care Quality Commission issued a warning notice to the hospital on 6 June that it should "significantly improve" the treatment of patients attending the emergency department.
A spokesperson from North Middlesex Hospital said claims by The Guardian that junior staff are "often" left in charge at night were "completely untrue".
The spokesperson said the hospital is working to recruit doctors from other trusts and that a new clinical director is joining the department at the end of the month.
"Middle-grade doctors will see fewer patients per hour so they have more time to spend with junior doctors," the hospital said.
During Prime Minister's Questions earlier, David Cameron accepted the hospital is very busy but said the government is investing in services there.
"If we look at what has happened since 2010, there are 120 more doctors, there are 280 more nurses recruited by the trust. The health secretary will continue to monitor this closely."
The Department of Health has been contacted for comment.