Southern Loathing: No end in sight for disruption for travellers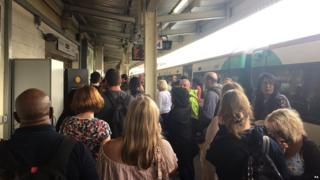 Commuters on Southern trains have had an appalling time recently.
Another 24 hour guard strike is set to take place next Tuesday, and the latest daily performance figures, which record the number of trains arriving within five minutes of the planned time, were shockingly low at just 30%.
That will not be a surprise, as commuters on those services are stuck in the middle of a perfect storm.
There is the ongoing Thameslink upgrade work at London Bridge which means there is a lack of capability there to handle any disruption well.
On top of that, there is now an extremely ugly and acrimonious industrial dispute over changing guards' roles and moving towards Driver Only Operations (DOO). Two strikes have already been held.
The Rail, Maritime and Transport Union (RMT) says guards are critical for safety, and that by downgrading their role, eventually there will be job losses. It says two people on a train is much safer than just a driver.
But Southern says new trains mean drivers can use CCTV to open and close the doors, and that guards will become more customer facing. It adds there won't be job losses and instead they will be called "on board supervisors".
Many of its services, which just run through London rather than further afield, have always run safely without guards, it says.
"Unpredictable mayhem"
Currently, according to Southern, there is a high level of sickness which is contributing to the high number of cancellations. It has had to cancel 80 trains a day as "they cannot run them if the guard is sick".
This amounts to "unofficial industrial action", says Southern, while the Department of Transport says this has caused "unpredictable mayhem".
The RMT deny that, and says all guards who are sick are signed off by a doctor and that many are ill due to work-related stress. Part of the problem is a lack of recruitment, it added.
What is certainly clear is morale is extremely low, as are industrial relations between staff and management.
In the middle is the commuter, many of whom have no time at all for the train operator and are beyond frustrated.
The irony is that Southern services are meant to be seeing big investments at London Bridge and new trains that should help performance. Instead, they are going the other way.
The worry for commuters is this is part of a much wider picture and the union fight against DOO is spreading to other franchises. That means all sides will probably dig in.
And while the timetable for the roll out of these new trains has been a long time coming, the issue has only come to a head now.
What many will say is looking increasingly ill-judged is upgrading London Bridge and introducing the incendiary DOO at the same time.