Ben Butler: The exonerated father who went on to kill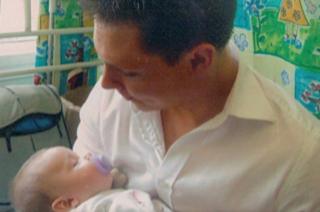 Six-year-old Ellie Butler died less than a year after she was returned to her parents. Social services, police and the courts had all been involved in her care since shortly after she was born on 30 December 2006. So how could it happen that Ellie was murdered at home, in her own bedroom, at the hands of her father Ben Butler?
It was February 2007 Butler and Jennie Gray were in a "casual relationship" and living apart. Ellie was their first child and Jennie took on nearly all of the baby's care.
Ellie was six weeks old when Gray dropped her off at Butler's shared flat in south London so she could get a break. In the early evening Butler says he was playing on his computer when he noticed something was wrong. He picked up Ellie who, he later said, had gone "floppy and sheet white". Panicking, he called for help from his flatmate who drove the new dad and his ill daughter to hospital.
In fact Ellie had suffered a serious head injury. Thankfully, and unusually considering her injuries, she made a full recovery.
However, Butler was charged by police and, in March 2009, convicted of causing his daughter grievous bodily harm. He was sentenced to 18 months in prison.
The incident was not the first time he had fallen foul of the law. By the time he met Gray, in a wine bar in 2006, he had a series of convictions for violent offences. He had served a three-year sentence for robbery and viciously assaulted an ex-girlfriend, Hannah Hillman, who described him as "pure evil" and told police how he could "flip" at a moment's notice.
He had held a series of menial jobs and spent long periods unemployed. His own family history was dysfunctional, his father had left home before he was born, and his mother and stepfather had a volatile marriage.
Despite the assault on her daughter, his violent background and feckless lifestyle, Gray stood by him as he launched an appeal to clear his name. In June 2010 his conviction was quashed.
The Court of Appeal had re-examined the highly complex and controversial medical evidence used to convict him and ruled the trial judge had not given the jury proper direction. The judgement said the jury had not been offered the option of considering whether some of Ellie's symptoms were due to an unknown cause. No retrial was ordered.
Butler and Gray now began a new fight, this time in the family courts, to get their daughter back. Ellie was now thriving in the care of her maternal grandparents who had taken her in soon after the incident at Butler's flat.
By this time Gray and Butler had had another child together who had been taken into care following Butler's conviction for assaulting Ellie.
The judge that heard the sibling's case was the vastly experienced Mrs Justice Hogg, who noted that the relationship between Gray and her parents was "fraught… feelings are tense and currently, in reality, non-existent".
The local authority children's social services were adamant Ellie should not be returned to Butler and Gray. The battle lines were drawn. Over the spring and summer of 2011, during a series of hearings at the family court, Mrs Justice Hogg heard allegations about Butler's violent character.
With every allegation made in court Gray would counter with a denial or an explanation. She had quite a different background from Butler but had a troubled adolescence. A talented artist she attended the Brit school for performing arts and, as a teenager, she had appeared as an extra in a number of TV shows including Silent Witness, EastEnders and The Bill.
Gray had also picked up her own criminal record, just before the family court hearings began, when she was convicted of a £10,000 benefit fraud and narrowly escaped being jailed.
She denied Butler was, in Mrs Justice Hogg's words, "domineering, abusive, controlling or bullying towards her". On his history of violence the judge observed: "I note the convictions include assaults on adults, not on children." When asked about injuries to her face, Gray told the court she used Botox and other cosmetic treatments that left her bruised and marked.
Mrs Justice Hogg also heard new medical evidence about the injuries suffered by Ellie when she was a baby - by this time more than 20 medical professionals had given their expert opinion on Ellie's injuries and medical history.
That history showed that Ellie had a cyst in her airway, a defect in her larynx and acid reflux. All three conditions, plus medical interventions at birth, raised the possibility in Mrs Justice Hogg's mind that Ellie had indeed not been assaulted by Butler.
After looking at all of the evidence, and listening carefully to what Butler and Gray had to say, Mrs Justice Hogg produced her first judgment and "exonerated" Butler - going further than the Court of Appeal, which had quashed his conviction.
Then in a series of court orders, recently released by the family court after successful legal action brought by the BBC, Mrs Justice Hogg ordered that every public body that held files on Ellie should prominently mark them with the statement that Ben Butler "has been exonerated by the High Court of all allegations of the physical abuse of Ellie Butler".
The court orders also gave permission for Butler to serve parts of Justice Hogg's judgment on any school, doctor, social worker, health worker or police officer that came into contact with the family.
Butler had, in effect, been granted a powerful legal weapon against anyone who raised concerns about Ellie's welfare in the future. Crucially, Mrs Justice Hogg also directed that local authority social workers at the London Borough of Sutton should no longer be involved in supervising Ellie's care.
Their relationship with Butler and Gray had broken down and any intervention, according to the judge, would be "doomed to failure". Asked for his reaction to the courts' decision, Neal Gray, Ellie's grandfather, is said to have observed: "They may have blood on their hands."
Independent social workers were appointed by the court. They had never worked with the family before and were totally guided by Mrs Justice Hogg's decision to exonerate Butler and the conclusions she had drawn in her judgments.
They were tasked, in strict terms, with managing the return of Ellie and her younger sibling. Because of their age and some ill health, only Ellie had lived with her "devoted" grandparents.
After some three months of supervision and visits the social workers, appointed by the court, saw no evidence of any mistreatment of Ellie. There were the expected bedding down problems but, the general impression was that Ellie and her sibling were doing well in their new home. However, inexplicably, the social workers were not told about Butler's history.
They were, in their own words, "going in with restricted vision". When they made inquiries to the family court to see if Butler had any history of domestic abuse they were simply referred back to Mrs Justice Hogg's judgments on the case. The independent social workers submitted their final report to the court in April 2013 - six months before Ellie died.
Former senior family court judge Sir Mark Hedley, who was one of the three judges who heard Butler's criminal appeal in 2010, said Mrs Justice Hogg's decision to exonerate Butler in the way she did was "unusual but not unique".
In an exclusive interview with the BBC, Sir Mark outlined the difficulties family courts face in cases involving the safety of a child, where decisions cannot be made with an eye on what might happen "five years down the line".
He said in a case like Ellie's, where there was only a single allegation of abuse that was later discounted, the balance would tip heavily in favour of the parents.
Sir Mark added: "I think the important thing is to take into account the whole range of the evidence that is available and to recognise that we don't always know the answer to every individual case… the stakes are very high.
"They're decided in a highly emotive context. They're decided in circumstances where the judge has to make a decision one way or the other. If you get a decision right, fine. If you get it wrong either way there are very serious consequences."
The BBC showed Mrs Justice Hogg's judgments to an expert who has been involved in numerous care cases. Paula Conway, a clinical psychologist, said Mrs Justice Hogg's judgements suggested she had "lost her sense of the many shades of grey" in the case. Ms Conway said the judge ignored any evidence that contradicted her view that Gray and Butler were anything but "a caring loving couple who only wanted to be with their children".
Mrs Justice Hogg retired earlier this year. The BBC has approached her for comment.
After their victory in the family court Butler and Gray were triumphant. They hired the publicist Max Clifford and set about selling their story. Newspapers carried features on the wronged family, telling of their first Christmas together. In October 2012 Butler and Gray even made an appearance on ITV's This Morning.
In the new year, arrangements were made for Ellie to change school to be closer to the new family home in Sutton. She started at Avenue Primary School in January 2013 and the head teacher Alex Clark paid tribute to the little girl.
He said: "She was gentle and thoughtful. She enjoyed things like art and drawing and doodling. She spoke well to staff, she engaged with them, she had some lovely friends… she has left a lasting impression on the school and the shock of her death affected the whole school community."
But, Mr Clark did have concerns over Ellie's poor attendance record. When Butler and Gray were challenged and asked for a doctor's note to explain her absences they became defensive and angry. Gray would tell the school about the "miscarriage of justice" Butler had suffered and on at least two occasions told the school she wanted an issue to be dealt with through her solicitor.
The impact of Mrs Justice Hogg's order, that the local authority social services should no longer be involved with the family, now had a serious effect.
Mr Clark said he had "gut feelings" there was something else wrong apart from Ellie's attendance record. "The family needed support, they weren't accepting any of our support… we would normally involve the local authority social services to engage with the family but that was not an option in this case."
Ellie died on the 28 October 2013 after sustaining a massive head injury. After Ellie's death the Family Court again became involved, this time, to make orders on the care for the younger sibling.
As part of the process Justice Eleanor King made a "fact-finding judgement" which said: "I am satisfied so that I am sure that Ellie died as a result of the father either hitting her on the back of the head with the leg of a child's table, or swinging her with such violence that her head came so forcefully into contact with the table leg that the leg broke and she sustained the skull fracture from which she died."
Butler has now been sentenced to life with a minimum term of 23 years. The evidence and his behaviour during his trial showed he was a man with a violent temper who managed to exercise control over those around him - including demanding to be sentenced straight away, despite his legal team initially proposing a relatively standard delay for a week. His hold over Gray was apparent even as they sat in the dock at the Old Bailey.
In some of her final words on the matter, Mrs Justice Hogg wrote: "It is seldom that I see a 'happy end' in public law proceedings. It is a joy for me to oversee the return of a child to her parents… the story does not end today. There is still work to be done."