Twitter to provide Tube alerts service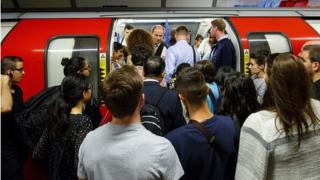 London Tube and rail passengers will be able to get travel alerts straight to their mobile phones as part of a new deal between Twitter and Transport for London (TfL).
TfL and the social networking platform began a pilot project on Thursday described as a "world first".
Customers will be receive alerts about delays on London Underground and TfL rail services as soon as they happen.
Commuters need to opt-in to the alerts by visiting the TfL website.
Tube passengers will also need to sign up to their mobile phone operator's wifi service to connect to any one of London Underground's 250 wi-fi hotspots.
Until now, obtaining live travel information via Twitter meant visiting the relevant rail operator's twitter account or searching for the latest tweets.
'Essential tool'
The new service will allow anyone who follows any combination of four existing TfL Twitter feeds to be able to opt-in to receive instant notifications about disruption.
They will then be able to select the lines they would like to receive regular updates about, although as of Thursday updates were only available for the Central Line, District Line, London Overground and TfL Rail Services.
Rail passengers that use Twitter will receive notifications straight to their mobile devices or computer as a direct message.
Mayor of London, Sadiq Khan, said: "Like every Londoner I rely on public transport to get me around and this world-first service looks set to become an essential tool for millions of Tube passengers.
"It is an innovative way of providing people with live updates from the Underground and contributes to my goal of making it as easy as possible to get around the capital."
Dara Nasr, managing director of Twitter UK, said the social network was already used by millions of Londoners every day to get live travel updates.
"Whether you're on Twitter already or thinking about joining, we would urge you to try this new service out as it will prove essential in avoiding delays," he added.