Huge fire rips through London hotel and block of flats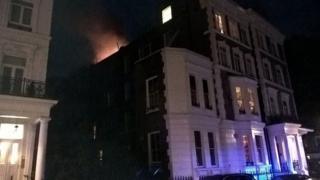 Seventeen people were rescued after a huge fire ripped through a hotel and block of flats in west London.
It took 72 firefighters five hours to extinguish the fire in Trebovir Road, Earl's Court, after being called at about 21:45 BST on Sunday.
They rescued 12 people from inside the building, three from one next door and two from the roof of a neighbouring property.
Nobody was hurt but 150 people were evacuated.
The whole of the second floor of the hotel was damaged by fire, three quarters of the third floor and all of the roof.
Station manager Winston Douglas said: "This was a serious fire and crews and worked very hard to stop the fire spreading."