Cyclist died after satnav delayed ambulance at Olympic velodrome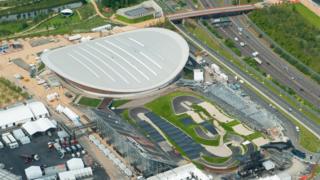 A cyclist died after three ambulances could not find him at the Olympic velodrome due to an out-of-date satnav system, a report by the London Ambulance Service (LAS) has revealed.
The 60-year-old man went into cardiac arrest in August last year at a track cycling session in Stratford.
But ambulances did not arrive for half an hour because the new roads had not been added to their navigation system.
The LAS said it had "taken steps to improve knowledge of the area".
Three response vehicles were despatched to the scene - including two ambulances and an advanced paramedic - but no help arrived for 27 minutes. The man later died at a hospital in east London.
Ambulances aim to arrive at life-threatening incidents within eight minutes.
The report said the delay was due to the "E20 Olympic Park not displaying on the satnav system".
It added: "In response, mapping books were updated detailing the Olympic Park and E20 area and subsequent updates in November 2015 to the Garmin system now detail the area and road network."
Dr Fenella Wrigley, medical director at LAS, said: "We are very sorry for the delay in reaching the patient."
She added that all staff had been made aware of the changes to road networks and their systems had been updated.
As a result of the failings, the LAS labelled it a "serious" patient safety incident.
A further 61 such incidents were recorded last year - a 41% increase on the year before.
A spokeswoman for Vibrant Partnerships, which runs the velodrome on behalf of Lee Valley Regional Park Authority, said staff at the centre provided medical support - including using a defibrillator - until an ambulance arrived.