Met Police in seized supercar speeding claim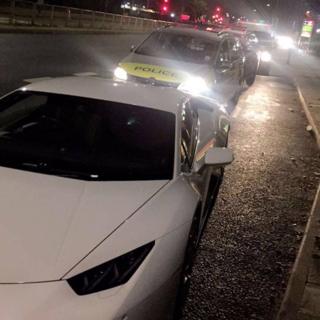 Police are investigating claims officers drove a £200,000 seized Lamborghini at twice the legal speed limit.
The supercar was stopped in Hounslow, west London, as a driver was taking it to a client in Bradford.
City Supercars owner Erwyn Mackee said the car had only just been insured with a different provider so the details did not show on the police database.
The Metropolitan Police said: "Locally, this matter will be looked into".
The firm said the car's tracker showed it reaching speeds of up to 63mph in 30mph zones.
Mr Mackee said speeding drivers using his cars could affect his insurance, and said it could also be dangerous for other road users.
"I'm trying to have a sense of humour about it. It's a great car and obviously he couldn't resist," he said.
"It's a very dangerous way to drive that car with someone who hasn't a lot of Lamborghini experience."
A statement from the police said the car was seized during a routine patrol in Bath Road and was taken to a pound.
"It was driven there by an officer via the Northern Perimeter Road, which we are satisfied is a direct route.
"Locally, this matter will be looked into to establish the exact circumstances of what took place," the statement said.