Rape row man cleared of harassing grieving father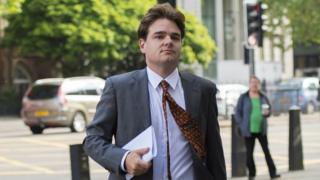 The son of a shipping magnate has been cleared of harassing the grieving father of a woman accused of making a false rape claim.
Alexander Economou, 37, was not guilty of a charge of harassment without violence against David de Freitas, District Judge Tan Ikram ruled.
Instead he genuinely wanted to "put the record straight", the court heard.
Eleanor de Freitas, 22, had accused Mr Economou of rape in 2013, but no case was brought against him.
Mr Economou had responded to the rape claim by bringing a private prosecution against Ms de Freitas, which was then taken up by the Crown Prosecution Service (CPS), Westminster Magistrates' Court heard.
Ms de Freitas took her own life at her parents' home three days before the start of her trial for perverting the course of justice.
Mr Economou, of King's Road, west London, was accused of sending letters to Mr de Freitas, emailing his solicitor and setting up a website on which he published CCTV footage of Ms de Freitas buying sex toys, along with sexual images and claims that Ms de Freitas was a prostitute.
The judge said: "I find that the material that the defendant posted was upsetting; a grieving father was being drawn to information about his dead daughter which painted her as a call-girl and as a liar. That was surely distressing, even if all true."
However, he said Mr de Frietas had campaigned in the media and continued asserting that his daughter's allegation of rape was true.
Judge Ikram said: "The fact is that the defendant, having previously been wrongly accused, remained in the firing line and accused of rape again and again."
The court heard that Mr Economou's actions, while "embarrassing", were "calculated to counter the continuing incorrect assertions that the allegation of rape was true".