Man accused of rape wanted his accuser 'behind bars'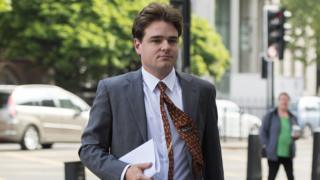 A man on trial for harassing the father of a woman who accused him of rape has said he had wanted to see her "behind bars".
Alexander Economou, 37, is charged with harassing David de Freitas.
His daughter Eleanor, 22, took her own life three days before she was due to go on trial on a charge of making a false rape claim against Mr Economou.
"She had put me through this ordeal - I could have gone to prison myself," Mr Economou said.
'Highly distressing'
The 37-year-old told Westminster Magistrates' Court he had been "deeply concerned" about an article on the Guardian website about women accused of making false rape claims.
In it, Mr de Freitas criticised the Crown Prosecution Service's decision to prosecute his late daughter on the charge.
"It was getting a massive amount of attention," Mr Economou said.
On 6 November 2014 he had a printed-out email sent to the home of Mr de Freitas in which he told the grieving father his daughter was a prostitute, the court heard.
Mr Economou also warned Mr de Freitas to "shut up or face the consequences" if he was portrayed as anything but the victim of a very serious crime in the media campaign, the court was told.
He denied it was meant to intimidate or harass Mr de Freitas ahead of a BBC interview, but said it was to "get across strong evidence".
Under prosecution questioning, he said he did not accept the "compromising images" of Ms de Freitas would be "highly distressing" to her father.
He told William Emlyn Jones that his decision to set up a website, eleanordefreitas.com, on which he published CCTV, the sexual images and claims she was a prostitute, was "not the wisest choice".
In his closing statement, Mr Emlyn Jones said Mr Economou had "dirtied" the name of Ms de Freitas and made her father's life a "misery".
But Colin Gibson, defending, said his client's actions were a "reasonable response" and that the website was not directed at Mr de Freitas.
"He [Mr Economou] wanted to be left in peace and get his life back on track.".
Mr Economou denies one charge of harassment without violence.
District Judge Tan Ikram will give a written judgment on 2 June.