Bereaved vicar prays for burglar who stole late wife's rings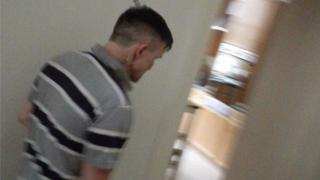 A bereaved vicar has asked people to pray for a burglar he believes stole his late wife's wedding ring.
Rev Simon Harvey, of St Mary's Church in Islington, heard noises coming from his bedroom on Wednesday and disturbed a man who claimed to be a decorator.
He was able to take a picture before the intruder fled towards Upper Street.
Rev Harvey, who lost his wife Jennifer nine weeks ago, said: "If he's out there listening now - thank you for not hitting me."
After calling the police, the widower found his wife's jewellery box on the floor with several rings missing, including their engagement and wedding bands.
He posted the photograph of the suspect on Twitter, where it has been retweeted more than 1,700 times.
"Thank you for amazing response! Please join me in praying for the man who stole my wife's jewellery. Light needs to come into this darkness," he later added.
Rev Harvey told the BBC's Vanessa Feltz Show he wanted to tell the burglar about his late wife.
"He took the most precious things that I wanted to keep for the rest of my life," he said.
"We started something on Wednesday... I want to hear his story."
'Amazing adventure'
Rev Harvey said he also wanted to help the thief understand the significance of the missing items.
"Jennifer and I met at school and in the box was the ring I gave her when we were teenagers and rings I've given her throughout our marriage," he said.
"Since she's died it's been a way of remembering her and thinking about the amazing adventure we had together."
He urged anyone who recognised the man in the photo, who has a tattoo under his right ear, to contact the police.
The Met described the suspect as 5ft 9in tall, of medium build, with short, dark brown hair and facial stubble.