Rape row man 'threatened grieving father', court hears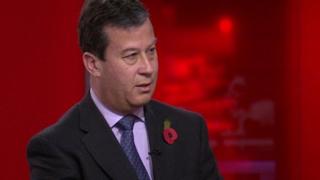 The ex-boyfriend of a woman accused of making a false rape claim told her grieving father to "keep quiet or face the consequences", a court heard.
Alexander Economou, 37, denies harassing David de Freitas, whose daughter Eleanor killed herself days before she was due to appear in court.
Ms de Freitas, 22, accused Mr Economou of rape in 2013 but no case was brought against him.
He denies one charge of harassment without violence.
Mr Economou responded to the rape claim by bringing a private prosecution against Ms de Freitas.
The prosecution was taken over by the Crime Prosecution Service (CPS), Westminster Magistrates' Court heard.
Ms de Freitas took her own life at her parents' home three days before the start of her trial for perverting the course of justice.
The alleged harassment against her father began on November 6, 2014, prosecutor William Emlyn Jones told the court.
Mr Economou had learned that Mr de Freitas was planning to begin a media campaign directed at the CPS over their decision to prosecute his daughter.
"The effect of the letter was to make him feel extremely frightened and intimidated and distressed," said Mr Emlyn Jones.
Within the letter it is claimed he had told Mr de Freitas to "keep quiet or face the consequences".
The court also heard how Mr Economou, of King's Road, London, threatened to publish CCTV of him and Ms de Freitas at an Ann Summers store together after purchasing £340 of sex toys.
He is alleged to have set up a website on which he published videos and claims that Ms de Freitas was a prostitute.
The prosecutor said the "cruel" publication of material by Mr Economou claiming Ms de Freitas was an escort was "highly salacious and gratuitous".
David Lee, defending, said Mr Economou "felt he had no way" of getting across his point of view.
"It was not designed to cause distress or alarm or harass anyone," he said.
Earlier this week, Mr de Freitas lost a legal battle for a fresh inquest into her death.
He had wanted the first one quashed so there could be a new investigation into the CPS's decision to prosecute her but two judges at the High Court rejected his case as "unarguable".
At the first inquest, coroner Chinyere Inyama declined to call the CPS to give evidence over how it handled the case.
Mr Economou's harassment trial continues.