London Mayor Sadiq Khan reveals majority of top team are women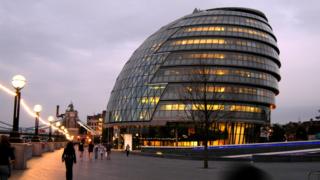 London's mayor has appointed women to the majority of roles in his "frontbench" advisory team.
The deputy mayors will be Val Shawcross for transport and Sophie Linden for policing. Fiona Twycross will chair the London Fire and Emergency Planning Authority (LFEPA).
James Murray is expected to fulfill an election pledge to build 80,000 homes a year as deputy mayor for housing.
Sadiq Khan said the team had extensive knowledge and experience.
On transport, Mr Khan has appointed Lord Andrew Adonis to chair the Crossrail 2 board. Lord Adonis will continue his role as chair of the National Infrastructure Commission.
---
Analysis: BBC London's politics editor Tim Donovan
Sadiq Khan's "frontbench" may be seen primarily in terms of municipal competence and gender.
For Val Shawcross, it's proved but a brief retirement - she stood down as an Assembly member at the May election. She helped Mr Khan during a City Hall session by successfully raising doubts about the Tory attack lines over his fares pledge.
Fiona Twycross has been a member of the fire authority as it contemplates difficult choices and closures.
Sophie Linden, known in Westminster circles, and deputy mayor of an inner London borough, has the policing portfolio.
James Murray's appointment to the crucial role of housing will lead people to look at his record in Islington, where he has been pushing hard for more affordable housing.
Some property and business types are already briefing that an "over-prescriptive" approach could stifle supply by getting developers to sit on their hands.
Others argue that Mr Murray, along with his boss, has a fair wind behind him: a strong moral, political and economic case for shaking up the approach to housing.
It was the major single issue of the election campaign. Perhaps there may be radical steps ahead.
---
Ms Shawcross will also be the deputy chair of Transport for London. The Labour London Assembly member has served eight years as chair and deputy chair of the London Assembly transport committee.
On policing, Ms Linden is a former government special adviser to Lord Blunkett at the Home Office, and is currently Hackney Council's deputy mayor with responsibility for crime and community safety.
Ms Twycross has served on the London Assembly since 2012, and has served as the fire board's vice chair since 2013.
Mr Murray is currently the lead councillor for housing and development at Islington Council, a role he has had for the last six years.
Mr Khan, said: "Housing is a top priority and I want all Londoners to be able to buy or rent a decent, affordable home.
"James Murray comes to City Hall with a strong track record of success, having championed the delivery of innovative housing solutions for years."