Heathrow third runway: British steel promise from airport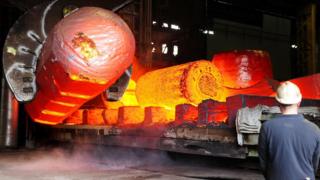 Heathrow airport has vowed to use British steel to build its third runway if plans gets the go-ahead.
The promise comes as the airport launches its manifesto, which includes pledges for better UK connectivity and 40 more long haul routes.
A decision on whether to expand Heathrow or Gatwick is expected after the EU referendum on 23 June.
It would come as a boost to the steel industry as firm Tata tries to find a buyer for its struggling UK plants.
Growth and expansion
Heathrow chairman Lord Deighton was due to visit the Severfield steel plant in North Yorkshire on Monday to confirm the pledge to advertise its requirements for steel in the UK.
Last July, the Airports Commission recommended Heathrow's plans provided it met certain conditions to tackle noise and pollution, and ruled out a fourth runway.
Chief executive John Holland-Kaye said expansion would create up to 180,000 jobs, compared with a promised 142,000 at Gatwick.
"If Heathrow falls behind, Britain falls behind. That means fewer jobs and less security for families," Mr Holland-Kaye said.
Plans for a new runway at Gatwick Airport would spread economic benefits "more evenly" across the country, its chief executive said.
The airport argues a new runway would have a "dramatically lower" environmental impact and cost less than expanding Heathrow.
It says it will create 22,000 airport-related jobs by 2050, as well as 120,000 in businesses near the airport.
Chief executive Stewart Wingate said: "Rather than concentrating growth in a corner of west London, Gatwick expansion will spread more evenly the economic benefits which will help deliver regional powerhouses across the UK."