Charing Cross Tube station evacuated due to smoke bomb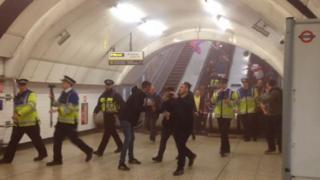 A Tube station was evacuated after football fans heading to Wembley Stadium set off a smoke bomb and fire alarms, Transport for London (TfL) has said.
An eyewitness said Charing Cross underground station "filled with smoke" at about 15:20 BST.
One person has been arrested in relation to the incident, British Transport Police said.
The station was closed for more than half an hour until the smoke cleared.
Allie Elwell, who was in the station at the time, said there were "cops everywhere".
She said: "It was madness. There were fans singing and cheering down the tunnel.
"We turned the corner and could smell smoke. Fans seemed to just ignore it all, still singing and banging on the side of the escalator.
"Soon after, there was announcement on the PA to evacuate due to an emergency. We jumped on one of the last Tubes."
Crystal Palace play Manchester United in the FA Cup final at Wembley later.
The area is now safe and the fire alarms have been reset, with the station reopening just before 16:00
TfL did not say which group of fans were responsible.