Man dies after explosion at flats in Stamford Hill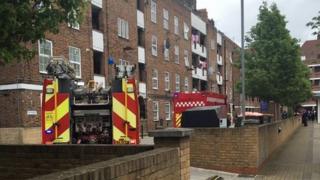 A 30-year-old man died and three people were taken to hospital after an explosion at flats in east London.
Police are investigating a fire which badly damaged a flat on the second floor of a five-storey block in Stamford Hill, Hackney, on Wednesday afternoon.
The man died after being taken to a specialist burns unit in Essex.
A 29-year-old man and two 28-year-old men are still being treated in hospital.
More than 20 firefighters from London Fire Brigade worked for two hours to get the fire under control.
A number of residents in the block of flats were evacuated and placed into emergency accommodation overnight.
Detective Inspector Paul Ridley, of Hackney CID, appealed for witnesses and said: "An investigation has been launched to establish the circumstances of this incident."