Ben Butler trial: Murder accused dad says court 'out for blood'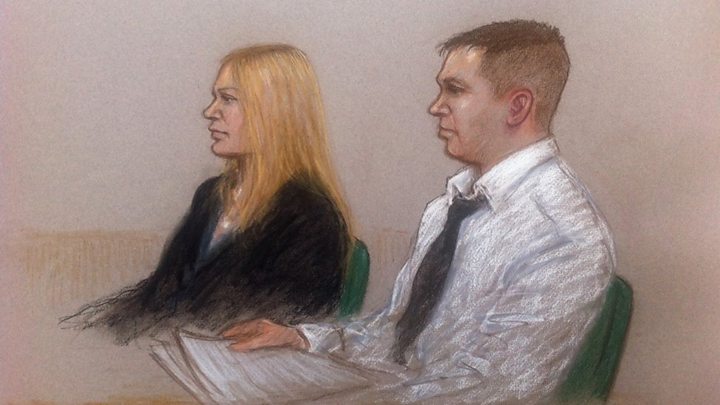 A father charged with murdering his six-year-old daughter has accused the prosecution of being "out for blood".
Ben Butler is accused of causing catastrophic head injuries to Ellie after losing his temper in 2013.
The 36-year-old, who denies murder and child cruelty, said he was only to blame for failing to get medical help when she fell down their stairs and hurt her head days before she died.
"I paid the ultimate price. Ellie paid the price. I blame myself every day."
At the Old Bailey, Mr Butler, from Sutton, south-west London, disagreed with the evidence a medical expert gave against him, saying he had said "whatever prosecutors had wanted him to say".
But Mr Butler said: "No-one wants to admit to anyone they may be at fault for why she died."
He added: "You just want a result because we turned you over in the last case."
Hillsborough comparison
Mr Butler was previously wrongfully convicted for shaking Ellie as a baby in 2007. Along with Ellie's mother, Jennie Gray, he went to the High Court to get Ellie returned to their care.
The Everton football fan compared his case to the fight for justice for victims of the Hillsborough disaster, saying the 2007 case had had a "ripple effect".
Earlier in court, prosecutor Ed Brown QC said Mr Butler had concocted a "sophisticated charade" to cover up Ellie's murder.
He said a 999 call where Mr Butler could be heard trying to save Ellie Butler's life was a "truly impressive performance".
During the 10 minute emergency call, he can be heard shouting "this is serious" and "she's not breathing" before Ms Gray is talked through CPR by the call handler.
The prosecutor said Mr Butler knew that the emergency call was being recorded, to which the defendant replied "yeah".
The jury have previously heard the pair delayed calling an ambulance for two hours after Ellie died.
"I suggest the story that you and Jennie Gray had agreed upon was largely in place by now," Mr Brown said.
Mr Butler denied moving the girl or "staging" the scene of her death. He said the delay was a reaction to what had had happened in 2007.
But Mr Brown said: "You killed your daughter in a fit of temper and did everything in those two hours to disguise the fact."
Mr Brown later asked: "When you first found Ellie, on your account, there must have been a chance, on your account, that she was either alive or recoverable. Is it right you put yourself first?"
To which Mr Butler said: "I wouldn't put it like that."
He called the abusive text messages he had sent to Ms Gray, "vile", adding: "There's nothing I'm going to say that makes it acceptable. It's not acceptable. I'm sorry to Jennie and I let her down."
Mr Butler denied rowing in front of Ellie and insisted he was not on trial for abusing Ms Gray, to which the prosecutor reminded him he was caught on video shouting on the phone with Ellie standing at his side.
The defendant replied that it "spilled out every now and again" in front of their daughter.
The trial continues.