Shadwell blaze tackled by nearly 100 firefighters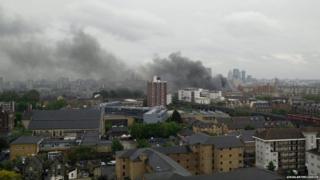 Nearly 100 firefighters have been tackling a blaze at a builders' yard in east London.
London Fire Brigade was called to the scene on Brodlove Lane in Shadwell just before 12:00 BST and fifteen engines were dispatched.
The fire spread to an adjacent block of flats where a man needed treatment for the effects of breathing in smoke.
The main fire has been put out but crews are expected to be working to extinguish hotspots into the evening.
The cause of the blaze is not yet known.
Read more on this story on our Live pages.
Flames engulfed the whole of the yard including a van, building materials and two shipping containers containing furniture.
Firefighters from 14 fire stations worked to contain the blaze at its height.