Comic Tommy Cooper awarded blue plaque on Chiswick home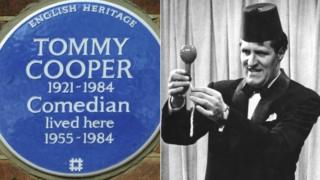 Entertainer Tommy Cooper has been honoured with a blue plaque on his former west London home.
A crowd wearing red fez hats chanted "just like that" as balloons were released to reveal the plaque on the house in Barrowgate Road, Chiswick.
FA chairman and member of the blue plaque panel Greg Dyke called the comic an "enormous man who wore a funny fez".
Mr Cooper lived in the house with his wife and two children from 1955 until his death in 1984.
The comedian died after collapsing during a live broadcast from Her Majesty's Theatre on Haymarket in the City of Westminster.
Unveiling the plaque, Mr Dyke called him "a comic genius and none of us quite understand how and why but he was."
Tommy Cooper's friend and colleague Ken Dodd had supported the proposal for a plaque, but was unable to attend the ceremony.
Other comedians previously given blue plaques include Kenneth Williams and Tony Hancock.
---
Blue Plaque facts
The scheme began in 1866 after the idea of erecting "memorial tablets" was first proposed by William Ewart MP in the House of Commons in 1863
The first plaque was for the poet Lord Byron, although this was lost when the building it was on was demolished in 1889
More than 900 plaques have been unveiled across London
An official plaque can only be proposed for a person who has been dead for at least 20 years
A plaque put up in Chalk Farm in 1937 to mark Karl Marx's final address had to be taken down because it was repeatedly vandalised
---